Can I Take the New York 5-Hour Pre-Licensing Course Online?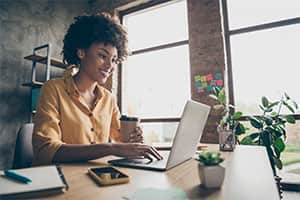 New York residents who hold a valid photo learner permit and are at least 18 years old are eligible to take the New York 5-Hour Online Pre-Licensing Course.
Originally, the DMV only accepted pre-licensing courses held in person in a classroom setting. But on Dec. 15, 2020, New York Safety Council became the first DMV-approved provider to offer the pre-licensing course in a self-paced online format with no instructor.
Like the traditional version of the course, the online course satisfies the DMV's requirement to complete five hours of pre-licensing driver training before you can schedule the road test for your New York driver license (Class D).
Online Pre-Licensing Course students can access their training at any time and complete the program 100% online and at their own pace. There is no class schedule, no face-to-face instruction and no final exam.
What if I Don't Meet the Course Requirements?
Teen drivers seeking a junior driver license (Class DJ) or junior motorcycle license (Class MJ) do not currently qualify for the Online Pre-Licensing program.
If you don't meet the 18+ age requirement for the online version of the course, you can contact your local DMV to sign up for a classroom-based course.
Those who prefer an online, self-paced course can fill out the form below to receive an update when the Online Pre-Licensing course is available to drivers under age 18. We'll send you an email with additional information if the DMV changes the program's minimum age requirement.
Sign Up for Updates on 5-Hour Course Age Requirements
If you do not have your New York learner permit, another requirement for the Online Pre-Licensing Course, you can learn more about the steps to getting your permit on the DMV website.
What Is the 5-Hour Pre-Licensing Course?
The 5-hour pre-licensing course teaches New York drivers the knowledge and skills needed to be safer and more responsible behind the wheel. The goal of the course is to prevent crashes and make sure new drivers understand their responsibilities and the rules of the road.
The course covers topics such as New York traffic laws, defensive driving skills, road rules and the dangers of driving under the influence.
The pre-licensing course has traditionally been offered only in a classroom setting and taught by an instructor. Students were formerly required to take the course in person at a high school, college or driving school.
In July 2020, Governor Andrew Cuomo announced that DMV-licensed driving schools could teach the 5-hour course via distance learning to train students safely during the COVID-19 pandemic. In the distance learning format, students sign up for a scheduled online class taught by a live instructor over Zoom, Skype or other secure technologies.
New York Safety Council is the first DMV-approved provider of the Online Pre-Licensing Course, a pilot program that Gov. Cuomo approved in October 2019. The 5-Hour Online Pre-Licensing Course, released in December 2020, lets you work on your training anytime 24/7.
Because there is no instructor guiding the class, you can complete the online program at your own pace, logging on and off as needed.
About New York Safety Council's 5-Hour Online Pre-Licensing Course
New York Safety Council's 100% online course meets all DMV requirements for pre-licensing education. The course is a convenient alternative to classroom-based learning that is available to drivers ages 18 and up with a New York learner permit.
The learning objectives for this course include:
Identify the responsibilities of licensed drivers
Understand the basic rules of the road
Describe the effective techniques for avoiding crashes
Explain the importance of seatbelts and other occupant protection devices
Recognize the dangers of driving while fatigued or under the influence
Summarize highway safety concerns
Following the successful completion of the 5-hour course, you can schedule your road test, which is the last step in obtaining your New York driver license.
The DMV also recommends that you complete at least 50 hours of supervised driving practice before you take your road test.
» Learn more about the 5-Hour Online Pre-Licensing Course
Why You Should Take Our Course
New York Safety Council's 5-Hour Pre-Licensing Course gives you the convenience to learn at your own pace without an instructor or preset schedule. The course has no final exam, so you can focus on each learning module without any added stress.
Course benefits include:
100% online
DMV approved
No final exam
Automatic completion reporting to the DMV
Full audio narration
24/7 U.S.-based customer support
Our completely online course lets you learn at your own pace and log on and off whenever it is convenient for you. There is no final exam, but each module ends with a brief quiz that tests your knowledge. If you fail a quiz, you can retake it until you get a passing score.
Once you have successfully finished the course, we will automatically notify the DMV of your course completion. You do not need to provide a course certificate, so you can make an appointment for your road test right away.
---
Sources
Governor Andrew M. Cuomo. (2020, July 29). Governor Cuomo Announces DMV Licensed Driving Schools Can Now Conduct Distance Learning Pre-Licensing Courses. Retrieved from https://www.governor.ny.gov/news/governor-cuomo-announces-dmv-licensed-driving-schools-can-now-conduct-distance-learning-pre
New York Department of Motor Vehicles. (N.D.). Learner Permits. Retrieved from https://dmv.ny.gov/permits
New York Department of Motor Vehicles. (2020, December). Online Pre-Licensing Course Providers. Retrieved from https://dmv.ny.gov/driver-training/online-pre-licensing-course-providers
New York Department of Motor Vehicles. (N.D.). Schedule and Take a Road Test. Retrieved from https://dmv.ny.gov/schedule-road-test